Clear aligners: Correct shifting teeth, and get your dream smile with this comfortable alternative to braces
Does the thought of orthodontic treatment immediately conjure images of pesky, silver-colored "metal mouth" braces? Do you still associate such treatment with teens? While many teenagers still benefit from lighter-weight and less obtrusive braces nowadays, we encourage you to broaden your perception of orthodontic treatment. Today's orthodontic treatments at Martin Orro DDS are not limited to braces. There are treatment options, many of which appeal to patients of all ages, including adults.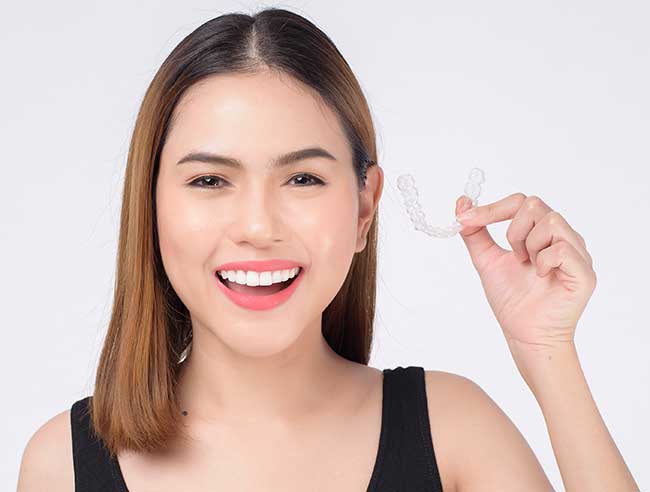 Clear aligners
Dr. Martin Orro has stayed on top of evolving dental treatments and technologies for over four decades. Dr. Orro may recommend clear aligner therapy as a discreet and removable alternative to fixed (non-removable), silver-hued braces made from stainless steel from his office in Lancaster, California.
While every company offers unique materials and designs, orthodontic treatment with clear aligners generally works in the same way (regardless of the specific brand):
A series of aligners made from a transparent and flexible plastic is provided to the patient
Each aligner is worn in the correct order, usually for around one to two weeks
The aligners slip into the mouth and over the teeth, and they should stay that way at all times (even overnight, when sleeping) — except during meals and when brushing and flossing
Failure to wear the aligners as directed can delay treatment
Visit our office as advised by Dr. Orro, so he can check your teeth, answer any questions or address concerns, and provide you with the next set of aligners to correspond with the next stage of treatment
Each aligner places gentle yet consistent pressure on the teeth to gradually straighten teeth. In turn, clear aligner therapy uses the same fundamental principles as conventional straightening. Instead of fixed brackets and wires, though, smooth and clear aligners are used. The total number of aligners provided to you depends on the nature of your malocclusion (misalignment) and its severity. In turn, treatment time varies from patient to patient and depends on various unique factors.
Schedule your consultation for clear aligners with Dr. Orro today! During your appointment, we can show you exactly how the treatment will straighten your teeth. Thanks to cutting-edge software, you can see what your improved smile would look like. This software is also used to make your custom aligners precisely.
Call (661) 943-2938 to reach our office in Lancaster, CA. We are privileged to support the health, beauty, and well-being of our neighbors in and around Palmdale, Quartz Hill, Rosamond, Antelope Acres, Pearblossom, and Leona Valley.