The Ease, Beauty, and Durability of Dental Crowns
Your dentist in Lancaster, California, may recommend a dental crown to correct the shape, size, and color of an imperfect tooth for those in the Palmdale, Quartz Hill, Rosamond, Antelope Acres, Pearblossom, and Leona Valley, California area. Dental crowns completely cover the exposed portion of your tooth or implant post. Once permanently fixed in place, a crown will add strength, and restore the beauty of a tooth. Only your dentist in Lancaster can remove it. With proper oral hygiene habits and good mouth care, your crown should last from 5 to 15 years.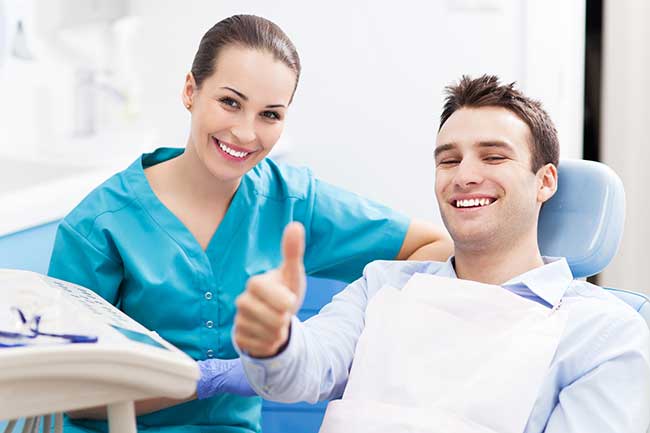 Dental Crowns
A porcelain crown in Lancaster, California, provides a natural-looking restoration that is strong and long-lasting. With CEREC technology, you can receive your permanent dental crown in a single visit. Typically, two appointments are needed to place a dental crown.
Your Lancaster dentist may prescribe a porcelain crown to:
Add strength and support to a fragile tooth after root canal therapy or a large filling
Cover a tooth implant
Enhance your smile by concealing a severely discolored or misshapen tooth
Repair, protect and restore a weakened tooth that is cracked, broken, worn or decayed
Secure a dental bridge in place
Types of Dental Crowns
Several types of dental crowns are used at Martin Orro, DDS in Lancaster, California. Each one has its own unique qualities and characteristics:
Full-porcelain is hard-wearing, strong, natural-looking, and very attractive. This tooth-colored crown is great for front teeth. For these reasons, porcelain crowns are a popular choice. Also, because porcelain doesn't contain metal, it offers a high level of biocompatibility.
Full-metal crowns provide great strength and endurance. Metal is best suited to endure the chewing forces of back teeth. Metal materials are not prone to breaks or chips. Furthermore, crowns made of metal require minimal tooth preparation.
Porcelain-fused-to-metal provides the best of both worlds. This crown type will match the natural color of your existing teeth combined with the strength of an underlying metal substructure.
All-ceramic crowns are more affordable than full-porcelain dental restorations. However, ceramic crowns do have similar properties to porcelain. The exception is that ceramic crowns are porous. As a result, they are prone to staining and discoloration if exposed to deeply colored foods and drinks.
If you live Palmdale, Quartz Hill, Rosamond, Antelope Acres, Pearblossom, Leona Valley, or the surrounding areas and need dental crowns near you, come meet our dentist near you.