Keep your Children Smiling with Quality Pediatric Dentistry
​Pediatric dentistry focuses on kids from infancy through adolescence. Dr. Martin Orro provides children dentistry in Lancaster, California. We provide complete dental care for children in Lancaster, Palmdale, Quartz Hill, Rosamond, Antelope Acres, Pearblossom, Leona Valley, and surrounding areas under one convenient roof. Our children's dentist and experienced staff emphasize preventive dentistry for our patients.
Kids Dentistry
The dental office of Dr. Martin Orro covers many functions that affect the oral health and hygiene of pediatric patients. We place emphasis on the care of primary teeth. This first set of teeth helps kids establish proper chewing habits and speech. They also serve as placeholders for the underlying permanent teeth. Therefore, it is important to keep baby teeth healthy and in place until they fall out naturally.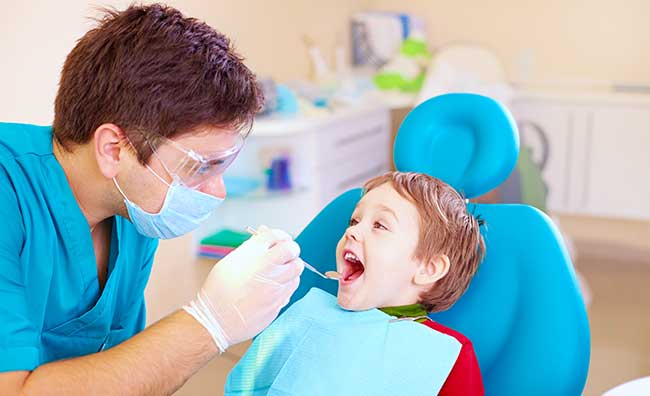 What Does a Children's Dentist Do?
Dr. Martin Orro is a premier kid's dentist in Lancaster and the surrounding areas. Furthermore, our dental clinic is equipped to treat pediatric dental issues in-house. As a result, we are truly a dental provider that treats the entire family in our Lancaster office location. With that being said, we provide the following services for our youngest patients:
Family education: Dr. Orro provides patient education to parents and children. He uses kid-friendly terms, models and computer technology. These tools allow him to convey the importance of maintaining good oral health throughout life. Your Lancaster dentist also teaches parents about balanced eating habits, trauma and disease prevention, and other useful tips.
Tracking development & growth: By monitoring your child's growth, Dr. Orro can detect dental issues and intervene quickly. As a result, budding problems do not worsen. In addition, early intervention and preventive treatment encourage a more positive self-image.
Preventive care: By encouraging parents to instill balanced eating and good oral hygiene habits, the likelihood of decay is reduced. In addition to routine dental exams and cleanings. Dr. Martin Orro also provides fluoride treatments and dental sealants.
Early intervention: When needed, your dentist in Lancaster will discuss early orthodontic care and other treatments. In cases of bad bites, mouth injury or teeth grinding, oral appliances can help. Custom-fitted space maintainers, mouth guards or surgery may be the best solution.
Children's Dentist Near Me
If you live in Palmdale, Quartz Hill, Rosamond, Antelope Acres, Pearblossom, Leona Valley, or surrounding areas and need pediatric dentistry near you, call our dentist near you.
To learn more about pediatric dentistry in Lancaster, CA, please contact our office.