The Oral Health Benefits of Endodontic Treatment
A severely damaged, cracked, or cavity-filled tooth can cause an infection or inflame the pulp of the teeth. The pulp is the soft tissue that holds the nerves and blood vessels in the tooth. If left untreated, the infection could worsen, and pain could ensue. Endodontic treatment is generally referred to as a root canal procedure.
At the dental office of Martin Orro, DDS, a root canal treatment can be done in one to two visits for patients in the Palmdale, Quartz Hill, Rosamond, Antelope Acres, Pearblossom, and Leona Valley, California area, depending on the level of infection and treatment plan in place. Once restored, the tooth will function normally and painlessly and could last a lifetime.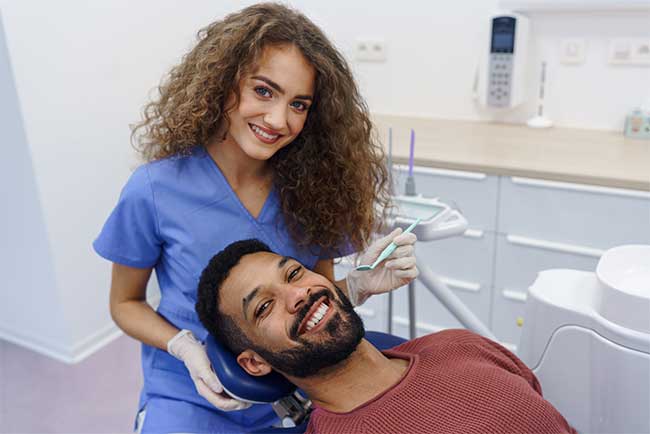 Common Symptoms
If you experience continuous tooth or gum pain, discoloration, have teeth which are sensitive to heat or cold, have a tooth that is tender to touch, pus, redness, or swelling in the jaw, it is best to contact a dentist in Lancaster, California or endodontist near you to ensure that you get the treatment you need. There are times when an infected inner tooth does not show any symptoms, so it is important that you visit your dentist regularly. Even when you are not showing signs of needing a root canal surgery, an x-ray can expose tooth damage that could worsen if left untreated.
Root Canal Treatment
Endodontic surgery involves removing the affected pulp and the nerves inside it. The area is then cleaned and sealed. A dental crown will usually be placed on the tooth to protect and fortify it. The procedure is generally done under local anesthesia, so it is a relatively pain-free procedure and nothing to be scared of. Most patients can return to their daily tasks almost immediately, within the day or two.
Lancaster, California
Martin Orro, DDS, is a qualified dentist in Lancaster who can assist in treating your pain and provide care and treatment of infected pulp and the inner tooth. For years, our dentist near you has offered endodontics near you to residents of Palmdale, Quartz Hill, Rosamond, Antelope Acres, Pearblossom, Leona Valley and the surrounding communities.
If you are worried about toothaches or other symptoms which may require endodontics in Lancaster, CA, call our office for professional and compassionate care. Don't live life in pain for fear of treatment or with worsening symptoms. Our patients are well cared for at our Lancaster based dental office.