Improve your Smile and Quality of Life with Dentures and Partials
Replacing missing teeth does not have to feel like an ordeal. At the dental office of Martin Orro, DDS, dentures and partial dentures are offered as a solution for missing teeth to patients in the Palmdale, Quartz Hill, Rosamond, Antelope Acres, Pearblossom, and Leona Valley, California area. For years, our dentist near you has been providing dentures and partials in Lancaster, California..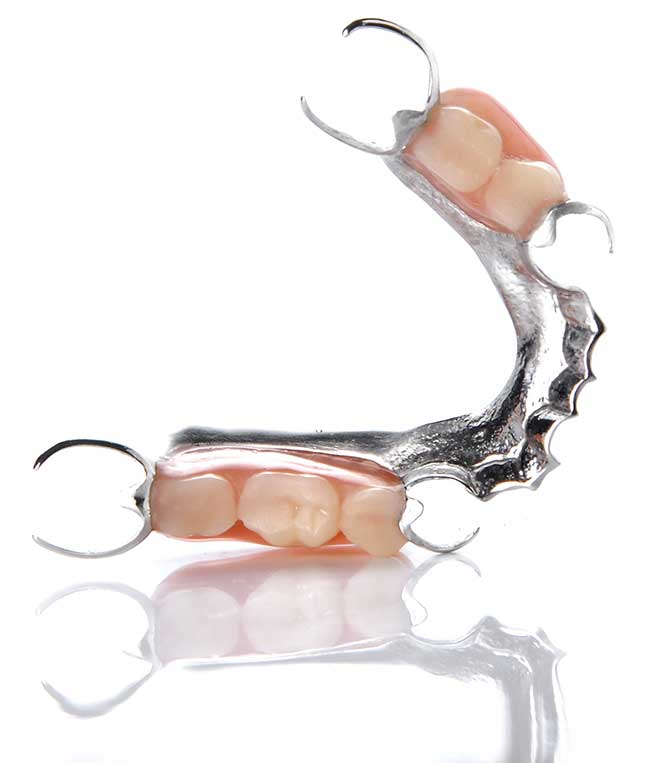 There are three types of dentures generally available to patients who are missing teeth.
Temporary Dentures
Temporary dentures can be provided to patients while they wait for their cosmetic dental procedures to replace their missing teeth permanently. Ensuring that patients have a natural, full smile while waiting for dental implants is important for patient peace of mind and is an aesthetically pleasing solution for many. Temporary dentures can be easily removed but will need to be replaced for a more permanent solution.
Partial Dentures Near You
If only a few teeth are missing, partial dentures may be a more suitable option for you. Using a plastic base the same color as your gums, partial dentures provide the appearance of natural teeth. A full set of dentures cannot be implemented while there are still natural teeth remaining in your mouth. Dentures are removable, unlike many cosmetic dental solutions.
Full Set of Dentures in Lancaster, California
Missing all of your teeth can feel embarrassing, but it does not have to be that way. Martin Orro, DDS, can help you make a decision that is best for your oral health and your confidence. Because you cannot have any natural teeth, dental extractions may be needed.
The first step in getting a full or partial set of dentures is to schedule a consultation with our dentist in Lancaster, California. At the initial consultation, our dental team will examine your mouth and decide whether dentures are a viable option for you and which dentures would be best. Molds and impressions will be taken to ensure that the dentures fit you perfectly and also function well. Adjustments are sometimes needed.
Dentures are a non-invasive solution to missing teeth, and certain temporary dentures can be fitted immediately. To help restore your self-esteem and give you back a natural-looking full set of teeth, call our dental office today and ask about scheduling a dental consultation.
Looking for a dentist in Lancaster for dentures and partials near you? Come meet our dentist near you.